Aphra Behn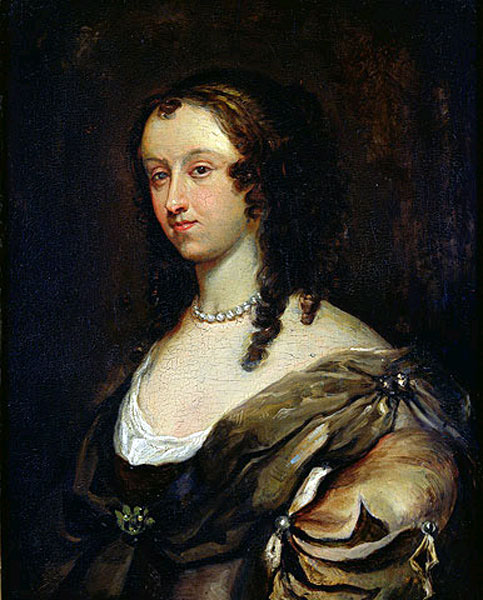 "...faith, Sir, we are here to Day, and gone to Morrow."
-Aphra Behn, "The Lucky Chance"

Aphra Behn was born Aphra Johnson in 1640 in England, and much of what is known about her is a guess on the exact year or time period that each occurrence happened. When she was around 23, she lived in Suriname for about a year and then in 1664 married her Dutch husband, which gave her the last name Behn. It is thought that he died when they had been married only about a year. In 1667, Aphra became Agent 160 for Charles II in Antwerp, but in 1668 she was imprisoned. Then, in 1670, Aphra began writing plays and books. Her first was a play called "The Forced Marriage" and it was performed at Lincoln's Inn Fields. After that point, she wrote at least one play/book per year. In February 1671, Aphra published The Amourous Prince, and she edited and published Covent Garden Drollery in 1672. She produced "The Dutch Lover" in 1673 and completed "The Revenge: Or a Match in Newgate" and "The Woman Turned Bully" in 1675. In the summer of 1676, Aphra produced her sole tragedy "Abdelazer" and also another play called "The Town Fop." She was very busy in 1677, producing and publishing The Rover, producing "The Debauchee" in February and "The Counterfeit Bridegroom" in September. Then came "Sir Patient Fancy" (January 1678), "The Feigned Courtesans" (1679), "The Young King" (1679), "The City Heiress" (1682) and "Like Father, Like Son" (1682). However, unlike most of the others, "Like Father, Like Son" did not do very well as a play and flopped. Following this decline, Aphra stopped writing plays for a short period of time. In 1683, Aphra published the first epistolary novel in English literature - "Love Letters Between a Nobleman and His Sister." She also wrote two books of poems, Poems on Several Occasions in 1684 and Miscellany in 1685. In 1686, Aphra published The Lover's Watch and produced "The Lucky Chance." Then, in 1687, she produced "The Emperor of the Moon." In 1688, she wrote her three fiction novels: The Fair Jilt, Agnes de Castro, and Oroonoke. Oroonoke was a study of racism and slavery, and although she never directly criticized slavery as the narrator (unlike

Harriet Beecher Stowe

in Uncle Tom's Cabin), her protagonist does criticize it. Aphra Behn died on April 16, 1689, and she was buried in Westminster Abbey. She was the first professional woman writer, a forerunner to English literature, and an important novel innovator.
Aspasia of Miletus
Although not much is known about Aspasia, her birth has been determined as falling somewhere in between 460-455 B.C. in Miletus, Greece. Sometime around 445 B.C., Aspasia moved to Athens and acted as a hetaira, a kind of prostitute, but one that was almost treated like the upper class. There, she met the most powerful and influential men in Athens, including Pericles, to whom she became a mistress.
Aspasia is thought to have had a great influence over Pericles, even though she wasn't his wife. It was she who convinced Pericles, the ruler of Athens in part of the Classical Period, to go to war against Samos over a border dispute. She also bore him a son which they also named Pericles. Pericles, the son, later became a general and was executed sometime after the death of Aspasia. While in Athens, Aspasia wrote many orations, for she is thought to be the leader of rhetoric in the Classical Age. She also discussed philosophy with Socrates, who called her his teacher. One of her lessons involved a husband and a wife, whom she convinced that they would never be happy as long as they were searching for ideal spouses. It is thought that because of this talent, both Pericles and Aspasia were targets for Pericles' enemies. Once, Aspasia was accused of impiety, but Pericles was able to defend her well enough so that she was acquitted. In 429 B.C., Pericles was killed by the plague, and in 428 B.C., Aspasia met a sheep seller named Lysicles, who soon became her husband. She taught him etiquette and public speaking so well that he became a prominent political leader in Athens. After this point, nothing more is known of Aspasia other than that she died around 410 B.C. Yet she was one of the few Greek women still remembered today and her name is used often by playwrights and historians to demonstrate the philosophy, rhetoric, and politics of the Classical Age in Greece, as well as the lives of Socrates and Pericles. She was also one of the few to have chosen her own name -- Aspasia, meaning "Greatly Welcomed." Lastly, while she lived she had taught, in some ways, the same philosophy as Plato and Socrates, two well-known Greek philosophers to whom much is attributed.
Susan B. Anthony
"Women must not depend upon the protection of a man, but must be taught to protect herself." -Susan B. Anthony
Susan Brownell Anthony was born on February 15, 1820, in the small town of Adams, Massachusetts, the second of eight children. In 1827 her family moved to Battenville, New York, and moved once more in 1845 to Rochester, New York, where they remained. Right away, Anthony was smart and demonstrated leadership, attending boarding schools and teaching when she was 15 till she was 30. In 1849, she became the president of the Rochester Branch of the Daughters of Temperance, a group dedicated to prohibiting alcohol. This was the first of many societies and associations that she was part of in her lifetime.
In 1853, Anthony created the Women's State Temperance Society. She was also part of the American Anti-Slavery Society from 1856 until 1861, formed the Women's Loyal League in 1863 for slave emancipation, and also founded the National Woman's Suffrage Association with her colleage, Elizabeth Cady Stanton, in 1869. Anthony and Stanton published a newspaper called "The Revolution," sending out the word for women's rights, saying "Men their rights and nothing more, women their rights and nothing less." Also in 1870, she founded and became president of the Workingwomen's Central Association. In 1878, Anthony wrote the Susan B. Anthony amendment, which on August 18, 1920, after her death, turned into the 19th Amendment, giving women the right to vote. She also founded the International Council of Women, made up of 48 countries, in 1888, the National Woman's Suffrage Association in 1890 (of which she was president until 1900), and the International Woman Suffrage Council in 1904. She was also able to make the University of Rochester accept women, starting in 1900.
Anthony died on March 13, 1906, in her home on Madison Street in Rochester, New York, from pneumonia and heart failure, having led the only non-violent revolution that has occurred in the United States, fighting for women's rights. Her last public words, "Failure is impossible," turned into the suffrage movement's chant. On July 2, 1979, the Susan B. Anthony dollar coin was created in her honor.
Joan of Arc
is a folk heroine of France and a Roman Catholic saint. She was born to a peasant family in east-central France. Claiming divine guidance, she led the French army to several important victories during the Hundred Years' War, which paved the way for the coronation of Charles VII of France. She was captured by the Burgundians, transferred to the English in exchange for money, put on trial by the pro-English Bishop of Beauvais Pierre Cauchon for charges of "insubordination and heterodoxy" and was burned at the stake for heresy when she was 19 years old.
Twenty-five years after her execution, an inquisitorial court authorized by Pope Callixtus III examined the trial, pronounced her innocent, and declared her a martyr.

[

7

]

Joan of Arc was beatified in 1909 and canonized in 1920. She is one of the patron saints of France, along with St. Denis, St. Martin of Tours, St. Louis IX, and St. Theresa of Lisieux. Joan said she had received visions from God instructing her to support Charles VII and recover France from English domination late in the Hundred Years' War. The uncrowned King Charles VII sent her to the siege of Orléans as part of a relief mission. She gained prominence when she overcame the dismissive attitude of veteran commanders and caused the lifting of the siege in only nine days. Several additional swift victories led to Charles VII's coronation at Reims.
Joan of Arc has been a popular figure to depict since the time of her death and many famous writers, filmmakers and composers who have created works about her. Cultural depictions of Joan of Arc have continued in film, theatre, television, video games, music, and performances to this day.


Ann frank


During the two years and one month Anne Frank spent hiding in a Secret Annex in Amsterdam during World War II, she kept a diary. Anne Frank's diary, which was published by her father after the war and has been read by millions of people around the world, chronicles both the tensions and difficulties of living in such a confined space for that long a duration as well as Anne's struggles with becoming a teenager. Since the publication of her diary, Anne Frank has become a symbol of the children that were murdered in the Holocaust.

Hua Mulan



is a legendary figure from ancient China who was originally described in a Chinese poem known as the Ballad of Mulan (木蘭辭). In the poem, Hua Mulan takes her aged father's place in the army. She fought for twelve years and gained high merit, but she refused any reward and retired to her hometown instead.
The historical setting of Hua Mulan is uncertain. The earliest accounts of the legend state that she lived during the Northern Wei dynasty




Jane Addams



was a pioneer settlement social worker, public philosopher, sociologist, author, and leader in women's suffrage and world peace. In an era when presidents such as Theodore Roosevelt and Woodrow Wilson identified themselves as reformers and social activists, Addams was one of the most prominent reformers of the Progressive Era. She helped turn the US to issues of concern to mothers, such as the needs of children, public health, and world peace. She said that if women were to be responsible for cleaning up their communities and making them better places to live, they needed the vote to be effective in doing so. Addams became a role model for middle-class women who volunteered to uplift their communities. She is increasingly being recognized as a member of the American pragmatist school of philosophy. In 1931 she became the first American woman to be awarded the Nobel Peace Prize and is recognized as the founder of the social work profession in the United States.
Florence Bascom



Florence Bascom was born in 1862 in Williamston, Massachusetts, the youngest of six children. In 1877, Florence enrolled in her father's college where he was a professor, the University of Wisconsin, and was able to get her Bachelor's degrees in Art and Letters in 1882 and her Bachelor's degree in Science in 1884. While at the University of Wisconsin, Florence learned about geology, of which she had always had a fascination ever since she went on her father's tours.
In 1889, after Florence graduated, she decided to attend Johns Hopkins University and receive a Ph.D. in geology, which she did in 1893, even though she had to sit behind a screen (for women were not yet allowed) so she wouldn't bother the male students. She was the second woman to get a Ph.D. in geology. Florence also taught various subjects including geology while she attended college and graduate school. She taught at Hampton University (then called Hampton Institute for Negroes and American Indians) from 1884 to 1885, Rockford College from 1887 to 1889, and Ohio State University from 1893 to 1895. Then, in 1895, Florence founded the geology department at Bryn Mawr College and was also a professor of geology there. Florence Bascom is considered to be the "first woman geologist in this country." She was the first woman to be part of the Geological Survey in 1896, the first woman to show her own paper in front of the Geological Society of Washington, the first woman to participate in the Council of Geological Society of America, and also the first woman to hold any office (she was vice-president) in the Geological Survey of America. She was an expert in petrography, crystallography, and mineralogy, and was also the associate editor of a newspaper that ran from 1896 to 1905 called the American Geologist. Florence definitely deserves to be recognized for all she has accomplished.


Simone de Beauvoir

Simone de Beauvoir was born as Simone Lucie-Ernestine-Marie-Bartrand de Beauvoir on January 9, 1908 in Paris, France. She attended Sorbonne for an education and in 1929 passed agregation in philosophy. From 1931 to 1943, Simone was a teacher, but in 1943, started her true writing career.
Most of Simone's works included her opinions of existentialism, the belief in individuality and freedom of individuality, as well as her feministic beliefs. In 1943, Simone wrote She Came to Stay, illustrating how the human conscience treats other consciences as opponents and what society's meaning was. She also wrote The Blood of Others in 1944. The Mandarins appeared in 1954, winning the Prix Gancourt, a type of award. This book talked about leaving personal status in exchange for political activism. In 1964 came A Very Easy Death, dealing with the issue of aging and society's attitude towards the elderly. Simone also wrote a couple autobiographies, the most famous ones being Memoirs of a Dutiful Daughter in 1958 and All Said and Done in 1972. In her autobiographical works, Simone usually put her own life in the time period that she lived in and saw how things worked out. Probably one of Simone's most famous works was an essay called "The Second Sex". This dealt with the abolition of what Simone called the "eternal feminine", equality between the male and female sexes, and woman's role in society. This became a true classic of feminist literature. Through her own writings, Simone de Beauvoir became a forerunner of the feminist movement and was an advocate of existentialism. She also co-created a monthly review called Le Temps modernas with a close personal friend. Simone died on April 14, 1986 in Paris, France at 76 years old.
Cleopatra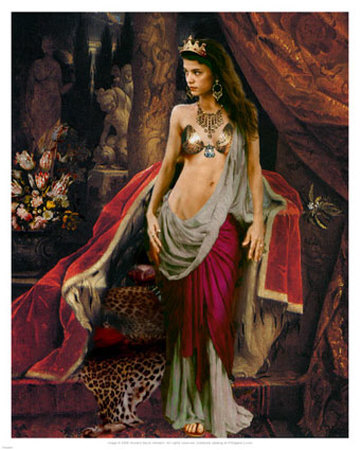 "For her actual beauty, it is said, was not itself so remarkable that none compared with her, or that no one could see her without being struck by it, but the contract of her presence, if you lived with her, was irresistable, the attraction of her person...and the character that attended all she said or did, was something bewitching."
-Plutarch about Cleopatra
Cleopatra, actually known as Cleopatra VII, was born in Egypt in 69 B.C. In 58 B.C., her father Ptolemy XII was expelled from power, so Cleopatra helped him regain his power. However, her father died in 51 B.C., and Cleopatra and her brother Ptolemy XIII took the throne. In 48 B.C., Cleopatra was exiled by her brother, who had taken control as supreme Pharoah. So, Cleopatra created an army in Syria and joined forces with Roman Julius Caesar, who became her lover and supported her cause. With his help, Ptolemy XIII was killed in 47 B.C. and Caesar pronounced Cleopatra as queen of Egypt.
As it was a custom, Cleopatra married her younger brother, 11 year old Ptolemy XIV. Cleopatra also had a child whom she named Caesarian and later became Ptolemy XV. He was thought to be Caesar's child, not Ptolemy XIV's. Then, Caesar was assassinated and her husband, Ptolemy XIV, was poisoned and died. Although Cleopatra has been implicated with possible having poisoned him, we are unsure if she really did poison him or not. After knowing him for a few years, Cleopatra married Mark Antony around 35 B.C., even though he was also married to a woman named Octavia. Together, they had a pair of twins who they named Cleopatra Selene and Alexander Helios, and also another child who was named Ptolemy XVI. In 32 B.C., war was declared upon Egypt from Octavius, the brother of Mark Antony's other wife, because Antony had left Octavia for Cleopatra. Antony and Octavia soon divorced, but Cleopatra still was forced into war. Sadly, Cleopatra's army was defeated in the Battle of Actium, and many sorrowful events followed. Mark Antony heard that Cleopatra had died, so he fell on his own sword in 31 B.C., effectively committing suicide. Cleopatra built a temple in Antony's honor called the Caesarium, which had the two small obelisks called "Cleopatra's Needles" in it. These obelisks were later given to America and Britain as gift in the 1800's. One is now in the Embankment in London, and the other is in Central Park in New York City. Saddened by Antony's death, Cleopatra killed herself in 31 B.C., although it is much disputed over whether she simply poisoned herself or let her asp (a type of snake) complete her death. Although her life has ended, her fame continues. She has been the basis for many works of literature, including Shakespeare's
Anthony and Cleopatra
, John Dryden's
All for Love
, and George Bernard Shaw's
Caesar and Cleopatra
. She has also had many movies titled and made about her, including ones in 1914, 1934, and 1963, among others.
Amelia Earhart
"Courage is the price that life exacts for granting peace with yourself."
Amelia Earhart was born on July 24, 1897 in Atchison, Kansas. She planned to go to college, but after encountering four wounded World War I soldiers on the street, she decided to go into nursing. Hence, during World War I, Amelia worked in Canada as a military nurse, and after the war was over, returned to her family, where she became a social worker at the Denison House in Boston, Massachusetts. There, Amelia started to teach immigrant children the English language. In 1920, Amelia took a ten minute plane ride that changed her life. After that flight, she knew she was meant to fly. So, she earned $1,000 to use as a fee for flying lessons by working many different jobs. After ten hours of instruction, Amelia was ready to fly alone. Amelia took her first solo flight in 1921 and bought her own plane a year after. Still, flying was only a hobby at hers; she still taught English at the Denison House. However, from June 17 to 18, 1928, Amelia was a passenger on a plane called Friendship that flew from America to England. She became the first woman to cross the Atlantic Ocean. Her story of the flight was covered by publisher George Putnam, whom Amelia later married in 1931. From May 20 to 21, 1932, Amelia crossed the Atlantic solo and also established a new time record for the flight: 13.5 hours. For this feat, she received a medal from president Herbert Hoover. A few years after 1932, Amelia became the first woman to fly successfully from Hawaii to California. Then, in June 1937, Amelia and navigator Fred Noonan set out to fly around the world. They left Miami, Florida, and passed South America, Africa, Thailand, Singapore, Java, and Australia. But when they left New Guinea for Howland Island, they disappeared. The only thing left was a frantic message to the US Coast Guard at 8:45 p.m. on July 2, 1937. Amelia Earhart, Fred Noonan, and Amelia's plane were never found. In 1939, Amelia's husband, George Putnam, wrote a book in tribute to her titled
Soaring Wings
.
Emily Dickinson
"If fame belonged to me, I could not escape her; if she did not, the longest day would pass me on the chase, and the approbation of my dog would forsake me."
-Emily Dickinson

Emily Dickinson was born on December 10, 1830 in Amherst, Massachusetts. She attended Amherst Academy for two years and Holyoke Female Seminary for one year. At Amherst Academy, Emily met the principal named Leonard Humphrey, and he gave her her interest in books. But it also seems as if a law student, Benjamin F. Newton, gave her her love of literature as well. For most of her life, Emily was a recluse, staying in her house by herself and never really coming out or seeing anybody. Her one true acquaintance was Thomas Wentworth Higginson, who published her poetry after her death. It was in the 1850's that Emily is thought to have begun her poetry, but it wasn't till 1858 that she began writing her poems in ink and put them in little booklets (meaning they were worthy enough for her to keep forever). In May 1855, it is thought that Emily met a man named Charles Wadsworth who touched off an explosion of her creative poems in the early 1860's. A number of letters to Wadsworth were found among her poems. Although Emily was considered a recluse most of her life, her last years were even more reclusive. She spent her days baking bread, tending her garden, and staring out the window. She grew obsessed with death, almost as if she knew that her time would come soon. Legends were even begun about her: the woman in white and the eccentric recluse. Emily Dickinson died on May 15, 1886 of Bright's disease, leaving behind over 2,000 poems that were published by Higginson after her death. Many of her poems are compared today to those of to Henry David Thoreau, for her writing seems to echo how he wanted to live. Stated by Tombstone "close to the bone, concentrating on the very essence of what she saw and felt in phrases that strike and penetrate like bullets, and with an originality of thought unsurpassed in American poetry."
Margaret Fuller
"The especial genius of women I believe to be electrical in movement, intuitive in function, spiritual in tendency." -Margaret Fuller
Margaret Fuller was born Sarah Margaret Fuller on May 23, 1810, in Cambridgeport, Massachusetts, one of nine children. She attended Misses Prescotts's school in Groton, Massachusetts, and then spent time in Cambridge, where she received some further education. In 1833, she became a teacher of young children at Groton farm. Sadly, her father, Timothy Fuller, died in 1835, and Margaret became the head of the family. A year later she taught German and Italian at Bronson Alcott's Temple School, and she also met and became friends with Transcendentalist Ralph Waldo Emerson in Concord. For two years, between 1837 and 1839, Margaret taught at Hiram Fuller's Green Street School in Providence, Rhode Island. Also in 1839, she translated Eckermann's Conversation with Goethe and moved to Jamaica Plain with her family and started Boston and Cambridge Conversation classes. She was also a member of the Transcendental Club along with Emerson, Louisa May Alcott, W. E. Channing, and Jones Very, among others. From July 1840 to July 1842, Margaret was the editor of the magazine
The Dial
, and even included some of her own articles in it. In 1841, Brook Farm was created, but both she and Emerson decided not to join because they believed in their individuality so much. A year later, in 1842, Margaret completed and published the translation of Correspondence of Fraulein Guderade and Bettina von Arnim. In 1844, she published her first book,
Summer on the Lake
, which detailed some of her own accounts. It also helped her receive her job as a literary critic for the New York Daily Tribune, and then she moved to New York. Margaret completed
Woman in the Nineteenth Century
, which became a classic of feminist thought, and published
Papers of Literature and Art
in 1846. Also in 1846, Margaret acted as a foreign correspondent in Europe for the Tribune. She traveled to Italy in 1847 and fell in love with and married Marchese Ossoli. She gave birth to their son, Angelo, named after one of his father's middle names, on September 5, 1848. Then, in 1849, Margaret was chosen as the director of a Roman hospital during the sieges of Rome and took care of the sick and dying. On May 17, 1850, Margaret, her husband, and her son died while sailing for America due to an ocean accident. In 1852, her friends Emerson, W. E. Channing, and J.F. Clarke wrote a book in tribute to her called
Memoirs of Margaret Fuller Ossoli
.